Letter from the Church Council
Isaiah 43: 1-2
Fear not, for I have redeemed you; I have called you by name, you are mine.  When you pass through the waters, I will be with you.
Our community has felt pain and loss this past month, through illness and death; and all the ravages of the covid pandemic which has effected so many other communities around the world.
We have lost Elizabeth Hudgin, Council elder and a mainstay of so much of church life, particularly with serving those most in need through our Projects and Benevolence community.
We have also lost Jonathan Simonson, youngest son of Eunice Simonson, Bibi to all at ACC; and husband to Annette, father of Sophie and Brenden, all of whom are part of ACC.  Jonathan built the wheelchair ramp at ACC which allows easy access to the sanctuary.
There are others that we know are ill at this time.
Yet through the darkest of times, we continue to feel God's love and peace, as we support each other, pray and mourn together.  In Him we trust.
Romans 8: 38 – 39
For I am sure that neither death nor life, nor angels nor rulers, nor things present nor things to come, nor powers, nor height nor depth, nor anything else in all creation, will be able to separate us from the love of God in Christ Jesus our Lord.
Psalm 147: 30
He heals the brokenhearted and binds up their wounds.
Susan Simonson – Council Chair
A short service of committal for Elizabeth Hudgin…
… was held on Saturday 24th July.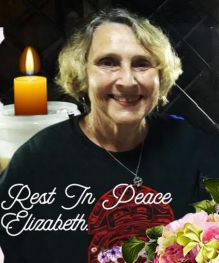 It was recorded, and the links are below:
      https://www.youtube.com/watch?v=OKq6pSEzUPg. Part 1
      https://www.youtube.com/watch?v=-zRqiGEaPFs&t=6s.   Part 2
      On Joy and Sorrow  Kahlil Gibran:
      Then a woman said, Speak to us of Joy and Sorrow.
      And he answered:
      Your joy is your sorrow unmasked.
And the self same well from which your laughter rises was often times filled with your tears.
And how else can it be?
The deeper that sorrow carves into your being, the more joy you can contain.
Is not the cup that holds your wine the very cup that was burned in the potter's oven?
And is not the lute that soothes your spirit, the very wood that was hollowed with knives?
When you are joyous, look deep into your heart and you shall find it is only that which has given you sorrow that is giving you joy.
When you are sorrowful look again in your heart, and you shall see that in truth you are weeping for that which has been your delight.
What would have been Elizabeth's message from Council for August?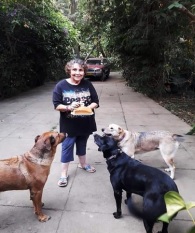 "Last month, Arusha Community Church received  a sympathy card from a Krishna (Hindu) religious order in Canada. As you see from the envelope, it was a contribution ($10 USD) as a tribute in honor of President Magafuli's death. We at ACC are proud of our international connections and are appreciative of the fact that people around the world recognize our goals to support and do good works for the people of the ENTIRE Arusha community .
Blessings to those people around the world who keep ACC in the hearts and prayers, especially during these difficult times."
Elizabeth Hudgin, ACC Council Member
9th July, 2021
Our Services
We are continuing our in-person worship services at 10:30 am every Sunday. However, we have a limited number of chairs available in the sanctuary to follow appropriate social distance guidelines. We encourage anyone with risk factors to stay at home and participate in worship by Zoom.
To prepare yourself: Download Zoom on a computer or mobile device by going to zoom.us . Click on these links to watch a tutorial on how to download the Zoom App and how to join a meeting from a computer or a phone.
Joining on mobile phone: https://www.youtube.com/watch?v=V8JaUEORjSo
Joining on computer: https://www.youtube.com/watch?v=fMUxzrgZvZQ
Sunday School – Teachers and Assistants Needed
The Christian Education committee is also considering starting Sunday School classes again, if that can be done in a safe way. Many of our key teachers have now left Arusha, and we are seeking others who want to be a part of this very important ministry. Past experience is not needed!
If you want to help teach, please give your name and contacts to Vivi in the ACC office, who can pass on the information to the Christian Education Committee.
Thank you.
Next Confirmation Class – Teachers and Students
Nine young people just affirmed their baptism during the confirmation service held in June and we do hope to start another Confirmation class in a few months, if that is possible. Two of our past confirmation teachers have now left Arusha and we are looking for others
who might want to be involved in this program. We also need to see if there are students who wish to take this program.
If you either want to help teach OR be a part of this class, please give your name and contacts to Vivi in the ACC office, who can pass on the information to the Christian Education Committee.
Thank you.
ACC Prayer Chain
If you have a prayer request and would like members of our community to support you in prayer, contact the four key persons – if possible by SMS- and they will inform the others from the prayer chain.
Erwin Kinsey 0754 480 184
Margaret Kenyi 0754 090 078
Susan Simonson 0754 266 559
Stella Karumuna 0754 281 337
Alcoholics and Narcotics Anonymous
AA meets at ACC:
Monday 1:00 pm – 2:00 pm
Tuesday 1:00 pm – 2:00 pm
Thursday 1:00 pm – 2:00 pm
Friday 5:00 pm – 6:00 pm
Saturday 10:00am – 11:00am
NA meets at ACC:
Tuesday 5:00 pm – 6:00 pm
Thursday 5:00 pm – 6:00 pm
Saturday 5:00 pm – 6:00 pm
 August 2021 Service Schedule
 

August 1


August 8

August 15


August 22


August 29


Church Calendar

Tenth Sunday after Pentecost

Eleventh Sunday after Pentecost

Twelfth Sunday after Pentecost

Thirteenth Sunday after Pentecost

 Fourteenth Sunday after Pentecost

Service Type

Morning Service

Morning Service

Communion Service

Family Service

 Morning Service

Service Leader

John Kraft

Elizabeth Munisi

Penina Oredsson

Monica John

Michael Murray

Preacher

Rev Dr Cynthia Holder Rich

Michael Murray

Rev Herman Kweka

Derrick Matthew

Daudi Mssemmaa

Musician(s)

Mary Severe

John Eager

Erwin Kinsey

Randy Stubbs

Ruth Bach-Svensen

Duty Elder

Irene Joel

Eliel Gideon

Erwin Kinsey

Michael Murray

Wilson Mzirai

Zoom Host

Jessica Shayo

Sion Miraa

TBD

Sion Miraa

TBD

Sound Projector

Severine Manday

 Avogadro Jerson

  Andrea Thomas

Severine Manday

  Tumsifu Mushi

Flowers

 Irene Mchomvu

 Erwin Kinsey

Christy Rowe Miller 

Rebecca Ndorossy

Jane Mashingia

Scripture Readings

2 Samuel 11:26 – 12:13a

Psalm 78:23-29

Ephesians 4:1-16

John 6:24-35

2 Samuel 18:5-9, 15, 31-33

Psalm 34:1-8

Ephesians 4:25-5:2

John 6:35, 41-51

1 Kings 2:10-12; 3:3-14

Psalm 34:9-14

Ephesians 5:15-20

John 6:51-58

1 Kings 8:(1,6,10-11), 22-30, 41-43

Psalm 34:15-22

Ephesians 6:10-20

John 6:56-69

Song of Solomon 2:8-13

Psalm 15

James 1:17-27

Mark 7:1-8, 14-15, 21-23
TITHES AND OFFERINGS AT ACC:
Thank you to the many who continue to give your tithes and offerings to ACC. Please know that these offerings are needed, appreciated and are used to help many within the community.
ACC BANK DETAILS:
For anyone who wishes or needs to transfer funds via bank deposit to ACC please find the following details here:
EXIM BANK
TSH: ACCOUNT NUMBER 00 300 23 252
USD: ACCOUNT NUMBER 578 067 0116
ACC MOBILE MONEY ACCOUNT DETAILS:
For anyone who wishes or needs to transfer funds via mobile money to ACC please find the following details here:
M-PESA DEPOSIT NUMBER: +255 755 992 394
NAME: NASIEKU MOLLEL (Church Administrator)