New ACC Church Council 2020
Top row from left: Neil Rowe Miller, Christopher Kenyi, Philip Mvungi, Erwin Kinsey, Michael Murray, Eliel Gideon. Below: Monica John, Susan Simonson, Elizabeth Hudgin, Rebecca Mosley. Not pictured: Doreen Marandu
Letter from the church council
On Sunday, February 9th, Arusha Community Church held it's 34th Annual General Meeting. Over 50 people attended the gathering, including a number of non-voting members who want to get more involved.
The various ministries of the church gave reports of their work over the past year. We continue to be a community that includes babies, children, youth and young adults in spiritual growth—our Sunday school program has become quite large. We worshiped more than 50 times over the past year, and never once did we miss a volunteer musician, preacher or service leader! We have been able to share resources (42% of our total budget) with some of the poorest of the poor. We continue to build up ministries outside ACC, which share the good news with unreached people and who lead discipleship ministries for rising young leaders in Tanzania.
We warmly thanked out-going council members John Kraft, Moses Manyama, Eric Mbelle, Sharon Mkisi, Christy Rowe Miller and Michael Pallanore for their years of service. The gathered community affirmed six new church council elders to serve in leadership of our lay-led congregation. The newly elected elders are Neil Rowe Miller, Eliel Gideon Mollel, Michael Murray, Philip Mvungi and Susan Simonson, with Rebecca Mosley serving a second term. Continuing council elders are Elizabeth Hudgin, Monica John, Christopher Kenyi, Erwin Kinsey and Doreen Marandu.
The church elders seek to discern God's direction for the community in both spiritual and practical matters. At the beginning of the year, they will take time to think through the big picture issues the church is facing and how to help ACC continue to grow into full maturity as the body of Christ. They meet each month to review the work of the various church committees. They affirm baptisms and marriages, approve administrative and financial decisions, and work out conflicts or discipline issues. Each Sunday, an elder is available to respond to questions and requests on behalf of the church. Please be in prayer for our group of elders, that we would be willing and faithful to follow God's lead in large and small matters.
In addition, the AGM approved the accounts of the past year, and passed a new budget for 2020. While the total budget is slightly lower than last year, that is because we received some unexpected gifts to the church last year. Our 2020 budget represents responsible spending, based on what we can reasonably expect to receive in regular offerings over the coming year. It will still stretch our community, requiring each of us to consider giving 6% more in 2020 than we gave last year. We recognize that God calls each of us to be faithful stewards of our resources, according to our means. We won't ask for pledges on your tithes, but we invite you to pray and decide together with God what faithful giving looks like for you.
Finally, throughout the AGM, we were encouraged to think about ways God is calling us to serve with our time, our abilities and our spiritual gifts. What passion has God placed in you? Is there a ministry where are feeling a passion to serve? Is there a need you notice, which you realize you can fill? Speak to an elder or fill out one of the TAA forms on the bulletin board. All of this is part of helping the church grow up into full maturity.
Let me end with an invitation to prayer:
– For wisdom for our new church council, as we lead into a new decade.
– For faithfulness in our commitments to giving tithes and offerings
– For courage and readiness to serve Christ's church with our time and abilities.
– Rebecca Mosley,  for the ACC Church Council
News & Events
Wednesdays at 5 p.m – 6:20 p.m: Choir Practice in preparation for Holy Weeek and Easter Service.
Come, let us make a joyful noise!
 April 9: Maundy Thursday service of communion and footwashing, 6:30 pm
 April 10: Good Friday service, 10:30 am
 April 12: Easter Sunday
Toys wanted
Our Crèche toys need replacing.
If you have any toys suitable for children 3 years or younger which you could donate, that would be very appreciated. Please bring on any Sunday and leave in the church office.
Thank you!
"Each one should use whatever gift he has received to serve others, faithfully administering God's grace in its various forms." 1 Peter 4:10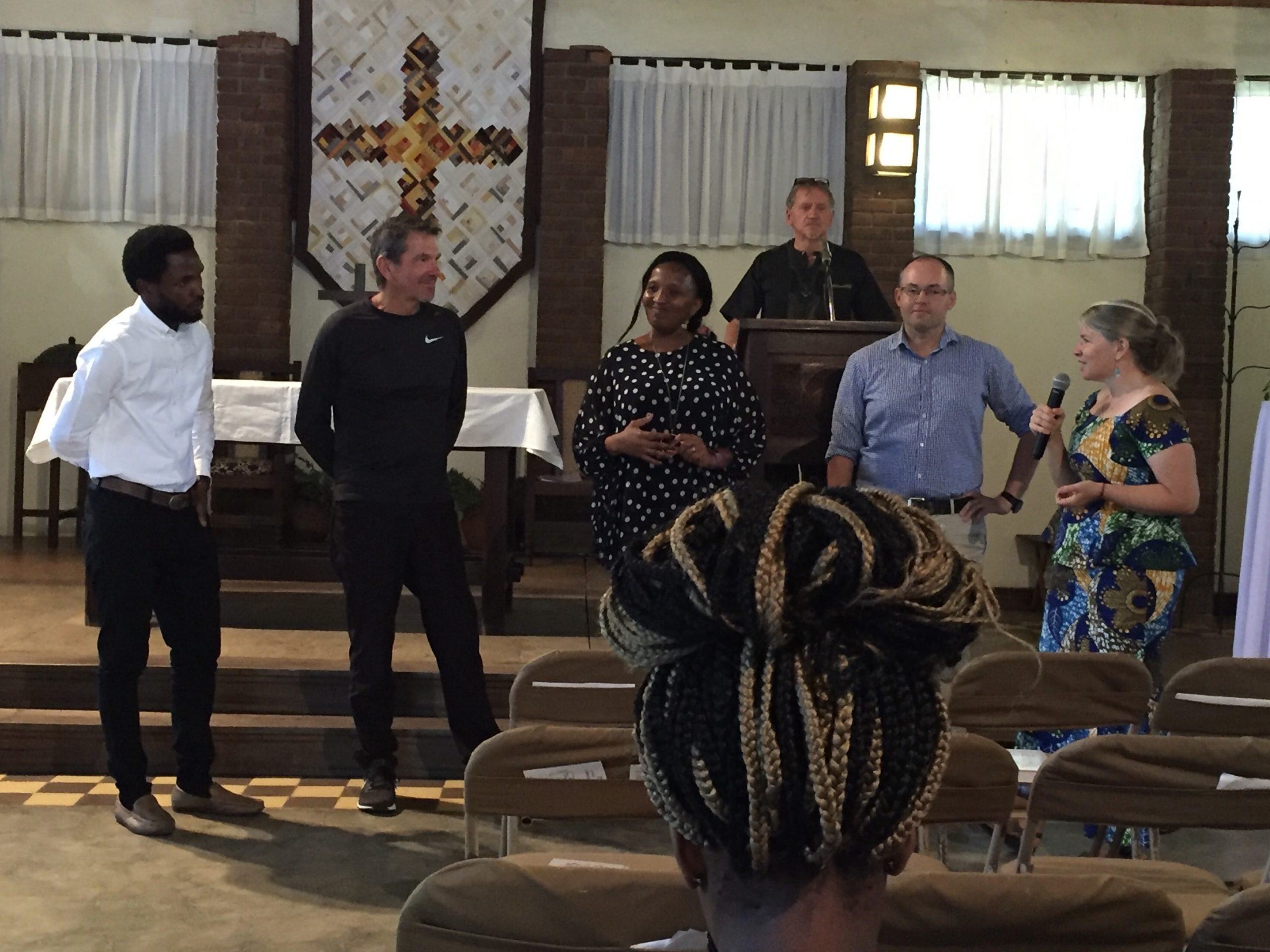 New Members Welcomed
Newly registered voting members: (L-R) Dennis Lyimo, Jeff Hollister, Paula Murray and Michael Murray being welcomed into the church body by ACC elders Rebecca Mosley and Erwin Kinsey.
Baptism
Worship committee has selected several Sundays in the church year to schedule baptisms during the service. If you wish to be baptized, or if you wish to have your child be baptized, you need to follow these steps:
1. Fill out a baptism request form at least 6 weeks in advance. (Form available from the church office)
2. Adult candidates or parents meet with a pastor for spiritual preparation. If you don't have a pastor in mind, the council chair will match you with an appropriate minister.
3. The pastor / lay minister recommends the adult / child for baptism to ACC Church Council.
4. If Church council approves, worship committee receives the baptism request to schedule it.
March 2020 Service Schedule
 

March 1

March 8

March 15

March 22

March 29

Church Calendar

First Sunday in Lent

Second Sunday in Lent

Third Sunday in Lent

4th

Sunday in Lent

Fifth Sunday in Lent

Service Type

Morning Service

Communion Service

Morning Service 

Communion Service

Family 

Service

Service Leader

Linda Jacobson

Monica John

Vance Miller Bicknell

Moira Brehony

Christy Rowe Miller

Preacher

Dr Mark Jacobson

Dr. Janet Yoder

Dr. John Yoder

Lisa Borden 

Paul Mosley

Musician(s)

Daniel Kalule

Erwin Kinsey

Rebecca Mosley

Daniel Kalule

Neil Rowe Miller

Duty Elder

Rebecca Mosley

TBD

Monica John

Chris Kenyi

TBD

Prayer Person

Service leader to assign

Service leader to assign

Service leader to assign

Service leader to assign

Service leader to assign

Sound Projector

Philip Mvungi, Mary

Avagardo Jerson, Lucieta Ngujeje

Severine Manday, Gabriel

Severine Manday, Tumsifu

Andrea Thomas, Edmund Massawe

Ushers

Andrea Thomas, Sherack Barnabas

Rogers Eliau,  Olen'g Stephano

Jacquelyn Njau, Elirehema Wegard

Tulius Nguru, Remmy Nnko

Rogers Eliau, Olen'g Stephano

Flowers

Doreen Marandu

Yoka Bruins

Christy Miller

Jane Mashingia

Irene Joel Mchomvu

Library

Sion Miraa

Narola Mollel

Eliel Gideon

Michael Murray

Joann Noel

Books

Abella Rugeiyamu

Meneto P

Debbie Laiser

Nancy Kimaro

Meneto P

DVDs

Abella Rugeiyamu

Meneto P

Miriam Taylor

Nancy Kimaro

Meneto P

Scripture Readings
Your content goes here. Edit or remove this text inline or in the module Content settings. You can also style every aspect of this content in the module Design settings and even apply custom CSS to this text in the module Advanced settings.