Letter from the church council
An exploration on Wikipedia concerning our Christmas traditions.
Did you know that a carol is a song of praise and joy? Carols used to be written and sung during all seasons of the year but of late, tradition has us singing them during Christmastime.
What is the origin of Christmas? Early Christians took over the pagan winter solstice (21st December) celebrations by celebrating the birth of Christ, and as early as the year 129 a Roman Bishop decreed that "Angel's Hymn" should be sung in Rome to commemorate Christ's birth.
Which are the oldest carols? The oldest Christmas carols which are still sung date from the 4th century, one of which we sing at ACC: Of the Father's love begotten – author unknown. Four hundred years later composers from all over Europe were writing Christmas carols, mostly in Latin and hardly understood by the common people who lost interest in singing them during the Middle Ages. In 1223 St. Francis of Assisi, Italy began a tradition of nativity plays which told stories in songs in local languages mixed with Latin. From that period come songs like In dulce jubilo (Good Christian ones rejoice) which we still sing.
Did the church always welcome carol singing? During the rule of the Puritans in England in the mid-1600s, the celebration of Christmas and singing of carols was stopped. This did not prevent the people from singing them secretly but carol singing in the church was disallowed. By the late 19th century, Christmas carols, considered to be a secular activity, were normally sung from house to house and still excluded from Christian worship.
What is the origin of Carols by Candlelight? The prohibition was to change. Organist John Stainer who later compiled Christmas Carols New and Old during Christmas 1878 introduced carols into the choral evensong at St. Paul's Cathedral in London. From Truro Cathedral in Cornwall, England there is a quote recorded in the Royal Cornwall Gazette of 20 December 1878: "The Choir of the Cathedral will sing a number of carols in the Cathedral on Christmas Eve, the service commencing at 10pm…It is the intention of the choir to no longer continue the custom of singing carols at the residences of members of the congregation." Bishop Benson was concerned by excessive consumption of alcohol in the pubs during this festive season, and sought to attract revelers into the churches by offering a religious celebration. From this time onwards, carol singing rose in popularity and was included in church worship. Nine Lessons and Carols on Christmas eve was first celebrated in Truro Cathedral on the 24th of December, 1880, a service mixing Christmas music and Bible readings, and over 400 people attended. Singing of carols in the streets also regained popularity and this custom has spread all over the world. Another custom became popular, the candlelight service, where the churches were only lit by candles. Today Carols by Candlelight services are held in countries all over the world.
What is the most popular Christmas carol? Silent Night" turns out to be not only the most popular carol worldwide, translated into hundreds of languages, but it has over 700 copyrighted recordings in the past 40 years and as such is twice as popular as the next best known carol. It is the chosen carol for ending ACC's Carols by Candlelight service each year, sung with descants, sometimes in different languages, and to which the candles are lit prior to the final benediction. Don't miss it!
When did Carols by Candlelight start at Arusha Community Church? The Carols by Candlelight has been a tradition from the very first year of ACC held in the Greek Club in 1986. This year marks the 33rd year, although the same service was conducted at Christchurch Anglican before then. Both congregations continue to celebrate this way, on 13th December 2019 at 6pm at Christchurch, and on 23rd December 2019 at ACC at 6:30pm. Karibuni sana! Services on Christmas Eve are also a tradition in many local services.
Is there anywhere in Arusha where one can go caroling outside of the services? ACC has a tradition since around 1990 of singing in the
hospitals and sometimes at the homes of the elderly. This year we will be singing from 2pm-4pm at Mt. Meru Hospital on the 15th December. We will go around the wards and gift soap, biscuits and greeting cards to the sick and those who attend them. Karibuni sana!
– Erwin Kinsey
News & Events
 December 15, 2-4pm: Caroling at Mt. Meru Hospital
 December 23, 6:30: Carols by Candlelight.
You are welcome to bring a plate of Christmas baking to share after the service.
During the Carols for Candlelight service, we will take a special offering to support Peacemakers for Albinism and Community (PAC). PAC is a local ministry in Arusha, working to raise awareness about albinism, reduce stigma, and provide a safe education for children with albinism. All funds raised at Carols by Candlelight will be used to provide safe, accompanied transportation for students going home for the holidays, and for supplies needed by 22 new students with albinism.
 January: Confirmation classes will be starting in January .Watch the announcements for the date of a parents meeting early in 2020.
Renovations Update
Due to circumstances beyond our control, the Council is letting the congregation know that there has been a delay in the church building renovations that we had planned to have done this year. We are hopeful that the renovations will start early in the New Year. Thank you for your patience.
BAPTISM
1. Fill out a baptism request form at least 6 weeks in advance. Form available from the church office.
2. Adult candidates or parents meet with a pastor for spiritual preparation. If you don't have a pastor in mind, the council chair will match you with an appropriate minister.
3. The pastor / lay minister recommends the adult / child for baptism to ACC Church Council.
4. If Church council approves, worship committee receives the baptism request to schedule it.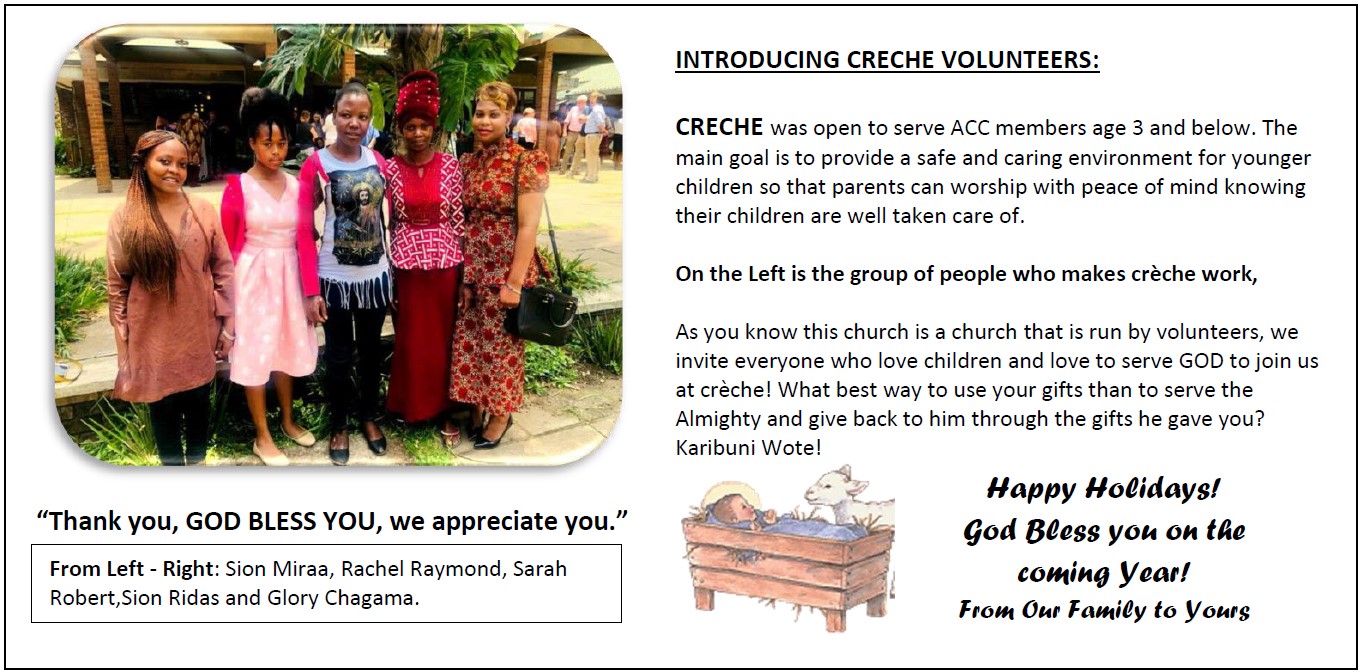 Worship Seminar, Saturday, November 16, 3 – 6 pm
The Worship Committee is hosting a worship seminar to help build up and equip the ACC community as we seek to honor God together. The afternoon will include a time to reflect on why and how we worship God well. We will also have practical break out sessions to talk about the nitty-gritty of planning for worship leading, preaching, music leading, and audio-visual leading.
Who should attend?
 Long-time worship leaders, who could share their experience with others
 New, potential worship leaders, musicians, preachers and technicians who want to learn and grow in worship leading skills
 Anyone who wants to get to know other ACC members more personally as you connect around a shared passion for worship
 Anyone who seeks to worship well: to glorify God and enjoy God forever.
Refreshments will be served. Sign up to attend the seminar in the church office.
November 2019 Service Schedule
Dec 1

Dec 8

Dec 15

Dec 22

Dec 23

Dec 25

Dec 29

Church

First Sunday of

Second

Third Sunday

Fourth Sunday

Carols by

Christmas Day

First Sunday

Calendar

Advent

Sunday of

of Advent

of Advent

Candlelight

after

Advent

Christmas

Service

Communion

Morning

Communion

Morning

Evening

Family service

Family

Type

Service

Service

Service

service

Community

service

Service

Service

Christy Rowe

Susan

Erwin Kinsey

Marilyn

Moira

Susan Simonson

Elizabeth

Leader

Miller

Simonson

Simonson

Brehony

Hudgin

Preacher

Michael Murray

Lisa Borden

Mike Taylor

Cynthia Rich

Rebecca

Oliver O'Brien

Philip Mvungi

Mosley

Musician

Linda Jacobson

Rebecca

Wendy

Mike Taylor

Wendy

Anna and Sophia

TBD

(s)

Mosley

Willmore

Willmore

Lieke

Duty

Michael

John Kraft

Erwin Kinsey

Rebecca

Elizabeth

Sharon Mkisi

Moses

Elder

Pallanore

Mosley

Hudgin

Manyama

Prayer

Service Leader

–

Service Leader

Service Leader

–

Service Leader

Service

Person

will assign

will assign

will assign

will assign

Leader will

assign

Sound

Gabriel,

Gabriel,

Benjamin

Gabriel,

Edmund

Phillip Mvungi,

Edmund

Beneath Joseph

Andrea

Laizer

Edmund

Massawe,

Beneath Joseph,

Massawe,

Thomas

Massawe

Phillip Mvungi

Samweli

Andrea

Thomas

Ushers

Jacquelin Ntau,

Rogers Eliahu,

Eliachim

Andrea

Shedrack

Rogers Eliau,

Shedrack

Andrea Thomas

Shedrack

Happymark,

Thomas, Rogers

Barnaba,

Doreen Mwandri

Barnaba,

Barnaba

Jacquelin Njau

Eliau

Andrea

Jacquelin

Thomas

Njau

Flowers

Yoka Bruinsma

Rebeca

Jane Mashinga

Nancy Maksud

–

–

Irene Joel

Ndorosi

Library

Narola Mollel

Sion Miraa

No Library

No Library

No Library

No Library

No Library

Books

Nancy Kimaro

Abella

No Library

No Library

No Library

No Library

No Library

Rugeiyamu

DVDs

Nancy Kimaro

Abella

No Library

No Library

No Library

No Library

No Library

Rugeiyamu

Scripture

Isaiah 2:1-5

Isaiah 11:1-10

Isaiah 35:1-10

Isaiah 7:1-16

Isaiah 9:2 – 7

Isaiah 52:7-10

Isaiah 63:7 -9

Readings

Psalm 122

Psalm 72:1-7, 18-

Psalm 146:5-10

Psalm 80:1-7, 17-

Psalm 96

Psalm 98

Psalm 148

Romans 13:11-14

19

or Luke 1:46b-55

19

Titus 2:11-14

Hebrews 1:1-4 (5-

Hebrews 2:10-18

Matthew 24:36-44

Romans 15:4-13

James 5:7-10

Romans 1:1-7

Luke 2:1-14 (15-

12)

Matthew 2:13-

Matthew 3:1-12

Matthew 11:2-11

Matthew 1:18-25

20)

John 1:1-14

23