Letter from the church council
John 15:5-8

"I am the vine; you are the branches. If you remain in me and I in you, you will bear much

fruit; apart from me you can do nothing…"
On Saturday, March 30th, the Church Council met together at the home of Erwin Kinsey for a Council retreat. Enjoying the warm hospitality of Erwin and Angelika, the Council members reflected on the year past and set the priorities for the year ahead. We rejoiced in the growth of the children and youth ministries as well as the increase in the number of small groups meeting together for Bible Study, prayer and caring support. We reviewed some of the challenges we have faced this past year and identified the areas we want to grow in and move forward during this next year.
Recognizing the richness of our diverse congregation, we will pursue ways to increase the involvement of even more people who attend Arusha Community Church (ACC). We understand that almost everything that happens in and through our church is done by people volunteering their time and abilities. Some volunteers have expertise in certain areas and others are just learning. There is room for everyone in our congregation and everyone is invited to participate fully! Galatians 6:9-10 "Let us not become weary in doing good, for at the proper time we will reap a harvest if we do not give up. Therefore, as we have opportunity let us do good to all people, especially to those who belong to the family of believers".
Why do you come to church? What is meaningful for you? Have you ever thought about church services and asked yourself, "why do we do things like sing, pray, preach, take communion, gather the offering" etc.? During the month of May and part of June, we will be doing a series of sermons on the Theology of Worship. We will have various preachers speak to the different elements of a church service and talk about why they are important. We are expecting to learn some new things and trust that this will make our services even more meaningful for each one of us.
Karibuni wote!
~ Sharon Mkisi
Left to right: Sharon Mkisi, Eric Mbelle, Rebecca Mosley, John Kraft, Monica John,
Christopher Kenyi, Erwin Kinsey, Christy Rowe Miller,
Michael Pallanore, Doreen Marandu.
Missing: Moses Manyama and Elizabeth Hudgin.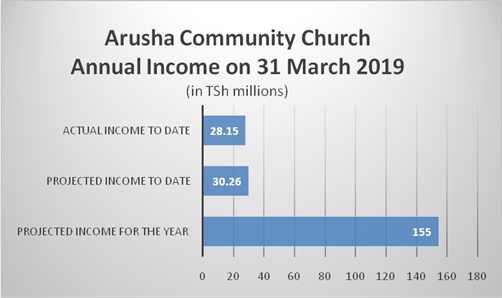 Improvements coming: The ACC Church Council met in April and approved a proposal to make a number of repairs and improvements to the church facilities. In the coming months, expect to see workers refurbishing the sound room, painting Sunday school rooms, repairing cracks, painting and replacing the lighting in the sanctuary and working to make our worship space more beautiful and functional. If you have any questions, please approach any member of council.
May 2019 Service Schedule
May 5

May 12

May 19

May 26

Church

Third Sunday

Fourth Sunday of

Fifth Sunday of Easter

Sixth Sunday of

Calendar

of Easter

Easter

Easter

Service

Communion

Morning  "Preaching"

Communion  "Sacraments"

Family

Type

"Prayer"

Leader

Christy Rowe-

John Kraft

Moira Brehony

Marilyn Simonson

Miller

Preacher

Rebecca

Mike Taylor

Mark Holder Rich

Dr. Shao

Mosley

Musician(s)

Daniel Kalule

Erwin Kinsey

Mike & Katie Taylor

Rebecca Mosley

w/ Alex

LaChapelle

Duty Elder

Eric Mbelle

Rebecca Mosley

Sharon Mkisi

Sharon Mkisi

Prayer

Service leader

Service leader will

Service leader will assign

Service leader will

Team

will assign

assign

assign

Sound

Godlisen

Philip Mvungi

Gabriel Francis

Edmund Massawe

Masangwa

Projector

Ombeni Peter

Godlisen Masangwa

Philip Mvungi

Chrisant  Lyimo

Ushers

Mathew Martin

Rogers Eliahu

Eliachim Happimark

Julius Nguru

Oleng' Diago

Doreen Mwandri

Andrew Thomas

Shedrack Barnaba

Flowers

Yoka

Helena Koster

Christy Rowe  Miller

Rebecca Ndorosey

Bruinsma

Library

Sion Miraa

Narola Mollel

Eliel Gideon

Sion Miraa

Books

Alexander

Justice Justin

Anita Daniel

Justice Justin

Ahmed

DVDs

Anita Daniel

Ombeni Peter

Alexander Ahmed

Nancy Kimaro

Scripture

Acts 9:1-6 [7-20]

Acts 9:36-43

Acts 11:1-18

Acts 16:9-15

Readings

Psalm 30

Psalm 23

Psalm 148

Psalm 67

Revelation 5:11-

Revelation 7:9-17

Revelation 21:1-6

Revelation 21:10, 22-

14

John 10:22-30

John 13:31-35

-22:5 John 14:23-29

John 21:1-19

or John 5:1-9